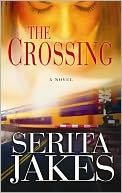 The Crossing
by Serita Jakes
I was intrigued when I heard about this book on the Dr. Phil Show. The theme of the show was domestic violence, and this novel certainly fits the bill. While it isn't the main plot of The Crossing, it's certainly one of the strongest threads running through it, and Jakes' treatment of the violence is eyeopeningly realistic. I can see why Dr. Phil would recommend people read it and learn from it.
The main theme of the book revolves around a ten-year-old school bus shooting and the havoc it continued to wreak on two of the survivors a decade later. When a masked gunman boards a bus that is stopped at a railroad crossing, he knows just who he wants to shoot--B.J. Remington, the cheerleading coach, and Casio Hightower, a promising high-school football player. B.J.'s not so lucky, she doesn't make it, and Casio, while lucky enough to live, sees his dreams of the NFL shattered in an instant.
Flash forward and we see Casio as a police officer who, like his father before him, believes it's okay to hit the woman in your life if she's stressing you out and/or not cooperating. It's difficult not to sympathize with Casio, as he is quite charismatic, and once you meet his rotten-excuse-for-a-human-being father, you might want to cut him some slack, as his girlfriend, Harper, is wont to do. Maybe he truly can change with the help of counseling. I know, I know, Dr. Phil, I should know better! We all should.
The other significant survivor of the shooting is Claudia Campbell. B.J. was her best friend, and Claudia suffers from PTSD, causing her to have frequent flashbacks and panic attacks, which have worsened in the past couple years after she suffered two miscarriages. Her husband, Victor Campbell, is the Assistant D.A., and it is he who reopens the investigation on the bus shooting, since the gunman was never found. He's hoping it will bring his wife closure, in addition to helping him to become the next D.A. He's not thrilled when Casio (Claudia's ex-boyfriend) steps in to help him on the case, but he quickly realizes how useful Casio can be, given he was on the bus that night, too.
Interestingly enough, each chapter opens with the voice of B.J. Remington, as she lay dying on the bus floor. As Claudia holds her and her life drains away, we hear her parents say goodbye, as well as her lover. B.J. was pregnant, the father unknown. This adds to the mystery, as it is a fact that was never uncovered ten years ago.
While this is what's considered a Christian mystery (Claudia's father is a preacher, and there is a great deal of discussion about faith), Jakes definitely does not sugar coat any of the violence. The reality of it is not only necessary to the plot, but it also gives the story credibility and a weightiness that makes it work. It also helps that the killer is not as apparent as oftentimes seems obvious throughout. Jakes manages her red herrings well.
In the end, the book is about love, hope and forgiveness, as well as murder, betrayal and adultery. It's about getting on with one's life after a tragedy, if you're lucky enough to find closure, not always easy to do when the killing is senseless.
Bonnie Crisalli