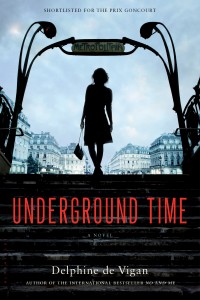 Underground Time
by Delphine de Vigan
I'm in a quandary as to whether or not to recommend this one. On the one hand, the prose is absolutely stunning. It somehow manages to be lyrical, while gritty and starkly realistic at the same time. And the storyline is an interesting, albeit depressing, one. Definitely not the book to read if you're in the mood for a uplifting, feel-good sort of read. It is an introspective novel of the highest order, so if it's action you're looking for, this is not the book for you. However, that being said, the entire time I was reading Underground Time, I kept thinking that it was a very worthy read because of how well it was written, and because there was this simmering element of suspense that managed to keep the pages turning. The reason I'm hesitating to recommend it is because it is one of those books you will most likely throw at the wall after having made an investment of several hours and more than a few emotional connections.
Obviously, there is something to this book, as it was shortlisted for France's prestigious Prix Goncourt. The superior writing would explain a lot of that, I'm sure. And, there will always be the critics who are extremely impressed with a writer who does not choose a happy, predictable ending. However, in my opinion, when a writer builds toward something, spells it out clearly for the reader, then it should come to fruition in a hopeful manner. I felt the ending was a cop out, even if it did mesh with the depressing plot line. This is one book I would have given anything to see end predictably, or at least with a spark of hope. Instead, we're left with zilch, no hope, nada.
The story tells the tale of Mathilde, a forty-year-old widow, who's being bullied by her boss at work. She made the mistake of contradicting him at a meeting, and he is now slowly, methodically working at not only ruining her career, but also tearing her confidence, as well as her life, to shreds. This is corporate bullying at its nastiest. It's heartwrenching to read, but intriguing at the same time. The boss, Jacques, is a real piece of work, and his maniacal vendetta is so ridiculous, it's almost genius. Many will wish that Mathilde would stand up to him, though he's so vindictively rotten, you'll also understand why she's afraid to do just that.
In a parallel plot line, Thibault is a lonely doctor, making emergency house calls in the city of Paris. He's just broken up with Lila, a woman he, admittedly, loved too much. Problem was, she was completely emotionless, unable to love him or show any reason why he should stick around (other than for the sex). He's known for several months that their relationship was toxic, but finally made the break on May 20.
May 20 is a signicant date for Mathilde, as well, since it's the date that a pricey psychic told her would be life altering for her. Thus, the waiting begins for the life-changing event that is to occur on that day. We see snippets of Mithilde's day, as she arrives late to work (the trains weren't running properly), only to find her spacious, bright office has been taken from her, given to a new employee, and she's been moved to a small, windowless storage area, right next to the men's bathroom. Not a very auspicious beginning to a day she had been anticipating for some time.
Meanwhile, Thibault's world has turned from full color to black and white, as he mourns the loss of a woman he deeply loved. We see the city through his eyes, in all it's dinginess and despair, as he makes his rounds, performing a job he once loved, but which no longer offers any contentment. Like Mathilde, he's at the end of a very long rope, ready to crumble at any given moment. In fact, the storylines of the two sometimes mirror each other to the extent that they have the exact same thoughts, word for word, at similar points in their depressing days. Realistic? Maybe, not. Effective? Very.
Needless to say, the reader will assume that Mathilde and Thibault will meet at some point on May 20. Otherwise, why open the story with the psychic's prediction, and then proceed to tell every detail of Mathilde and Thibault's day? Maybe it's just me, but I did expect they'd be each other's savior, at least in some small way. Guess maybe I've read one too many romance novels (not that that's possible!); however, in whatever genre I'm reading, I do expect a writer to follow through with unspoken, but very real, promises. As I said, why bother comparing Mathilde and Thibault's day, only to have it mean so little in the end. (Notice, I'm not saying whether they do or don't meet?) Enough said.
So, you can clearly see why I'm hesitating to recommend Underground Time. It's beautifully written and offers an array of worthy insights. I just wish I had a solid reason for having invested the time--like an ending that was less realistic and more uplifting. Hell, I'd even have settled for a grain of hope or a dim light at the end of the underground tunnel.
Bonnie Crisalli