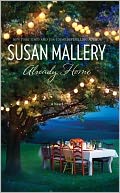 Already Home
by Susan Mallery
Susan Mallery fans have got to be happy with her lastest engaging novel, Already Home, a bittersweet tale of love and loss and learning to love again. This book will grab at your heartstrings and tug--hard.
While Already Home did take a couple chapters to get into, once I was hooked, the story just kept growing on me. When I first met Jenna, a sous-chef totally lacking in confidence, thanks to a verbally abusive ex-husband, I wasn't sure I was going to like her--her wimpiness got on my nerves. But as she began to pick up the pieces of her shattered life, I realized what a brave soul she actually was, and that she had great potential to become a strong and likable heroine. Mallery didn't disappoint. Watching Jenna's transformation from a girl who let herself get walked on, to a woman who knows what she wants and goes for it, is really quite satisfying.
At a total loss after her marriage ends abruptly, Jenna returns home to Georgetown, Texas, sees a for-lease sign in a shop window, and impulsively decides to rent the shop and open a kitchen store, Grate Expectations. While Jenna may have some good ideas, she has absolutely no retail experience, and it is soon obvious to both Jenna and the reader that this was maybe not the best idea. Enter Violet, manager extraordinaire, a regular Mary Poppins of the retail world. Violet is an awesome character; she's got street cred and is business savvy, the perfect blend of bad girl turned good, and readers will pull for her from the beginning. She helps turn Jenna's world around, and Jenna responds in kind. In no time at all, the two women find that they need each other, much like two long lost sisters.
It's fun watching the store grow into a sort of kitchen emporium, with cooking classes taking center stage. Business is buzzing, and Jenna is slowly regaining her confidence and learning to love life again. Of course, Mallery, being the consummate storyteller, decides it's the perfect time to drop a bomb on Jenna. Enter Serenity and Tom, aging hippies and the birth parents Jenna never knew. Jenna has been perfectly happy for thirty-two years with adoptive parents, Beth and Marshal, her "real" parents, as she refers to them. She doesn't have room in her life for another set of parents, and why, exactly, should she make room at this particular time? But Serenity isn't going anywhere, and plants herself firmly in the middle of Jenna's life, not taking no for an answer as far as Jenna getting to know them, and gathering a fan base along the way. An odd situation, to be sure, and one full of drama.
There are many wonderful nuances I'm leaving out, but I did so intentionally. You really need to read this one to get the full sense of the storyline. As may be obvious from the above description, Already Home is a character-driven story, replete with a wide range of characters--characters who might not seem like they could ever fit together, though Mallery seems to glide them into place with ease. I missed these characters as soon as I turned the last page, though I'm pretty sure they're all in a good place. Guess I'll just have to remember them that way and let them go--like all good things, there is, sadly, an ending.
Bonnie Crisalli