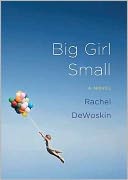 Big Girl Small
By Rachel DeWoskin
Here's a coming-of-age story that is sure to wow you and bring you back to your own turbulent high school years. Rachel DeWoskin is the kind of writer who can bring it all back by engaging all five of the reader's senses—you will clearly smell and visualize high school halls, lockers, desks, not to mention the beauty queens and the jocks; you will taste and feel the texture of the high-carb cafeteria food, along with the bitter pill of adolescence; you will hear the late bells ringing and the droning teachers' voices, as well as the talented singing and acting voices at this upscale, performing arts academy in Ann Arbor, Michigan. But mostly, you will feel the angst, the excitement and the sadness of what it's like to be different in a school where appearances are everything—even more so than in most schools.
At three feet nine inches tall, Judy Lohden walks taller and is more intuitively smart than most high school juniors. Judy doesn't let the fact that she's a small person (the politically correct term for dwarf, according to Judy) stop her from pursuing her dream to be taken seriously as a singer and an actress. She's a dynamo with a booming, jaw-droppingly good singing voice, which gives her lots of clout as she enters Darcy Arts Academy (or, as the students call it, D'Arts) in her junior year. Unfortunately for her, clout doesn't win her instant popularity—something she was hoping for—with anyone but the teachers. While the teachers adore her, it's the misfits who befriend her, feeling an instant kinship.
When Judy falls fast and hard for the most popular, good-looking and charismatic boy, it is quite obvious that nothing good will come of it. Obvious to the reader, that is; not so obvious to a book-smart girl, blinded by pure adolescent desire. As smart as Judy is, she has no experience at reading the danger signs clearly spelled out along the path to sexual awakening. The reader will want to yell to her, to pull her back, but, as I already mentioned, she's blinded by the glow of the school's number-one golden boy. The fact that Judy is telling her story from a rundown motel room after she runs away is the reader's first big clue that all did not go well for Judy at D'Arts.
After just a few pages of Big Girl Small, it is evident that Judy appears to be wise beyond her years (she's quite clearly an "old soul"), which makes her heartache all the more tragic—just the fact that she didn't see it coming, but realizes she should have. This point is clearly illustrated in one illuminating passage (before anything "bad" happens to Judy):
"The horrible thing about being young and stupid (among others) is that you can't know what you don't know. But you can have a sense that you don't know shit. This is a curse I notice most of my classmates don't have. They seem to think they know a lot about a lot of things. I don't know why I have to be like a magical elf of a teenager, but I somehow know it's impossible to know much until you're way older than we all are. I hate that. Both the fact of it and the loneliness of being the only one who seems to know it."
How many sixteen year olds do you know who think like this? But this is exactly who Judy is, which makes it all the more tragic (though no less believable) that someone this smart could let herself get caught in a horrendous, though predictable, predicament.
There's always pain to be gotten through in coming-of-age stories, but it's how the author handles the light at the end of the tunnel that makes or breaks the story, in my opinion. DeWoskin handles the ending with deft, sure strokes, fading to black after just the right amount of hints as to what Judy's future might hold. She leaves the reader with the hope that while the repercussions will always be with Judy, a lesson has been learned and the chance for future success is still very much a possibility.
Bonnie Crisalli